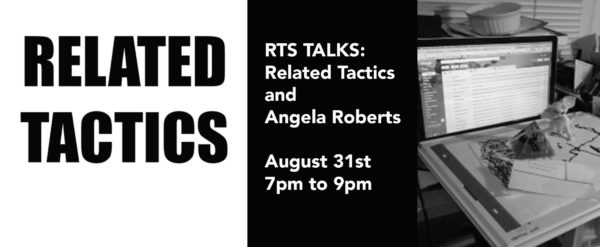 RTS is excited to host a talk by our July/Aug resident art collective, Related Tactics, and a reading by July/Aug Small Press Traffic writer in residence, Angela Roberts. Join us on August 31st at 7pm!
Related Tactics is a collective of artists, writers, educators, editors and curators producing creative projects, opportunities and interventions at the intersection of race and culture. Our projects explore the connections between art, broader social issues, and the public through trans-disciplinary exchanges, making, and dialog. Related Tactics is a conceptual space and platform where we aim to confront and critique systemic and institutional racism or inequities that influence our immediate socio-cultural lived experience. We do this through collaborations and critical thought between and for communities of color and the diaspora. Collective members are Michele Carlson, Weston Teruya, and Nathan Watson. Related Tactics received a Alternative Exposure grant in support of Tactical Reviews, a biannual print and online publication focusing on writers and artists of color launching in 2016.
Angela Roberts is a writer and cellist based out of Oakland. She's going to give a brief talk about her research in verbal notation, writing for performance, and making experimental music in the context of her project "Lovely Grushenka", a composition for ensemble created in fulfillment of her July-August Real Time Space and Small Press Traffic Elevate residency.