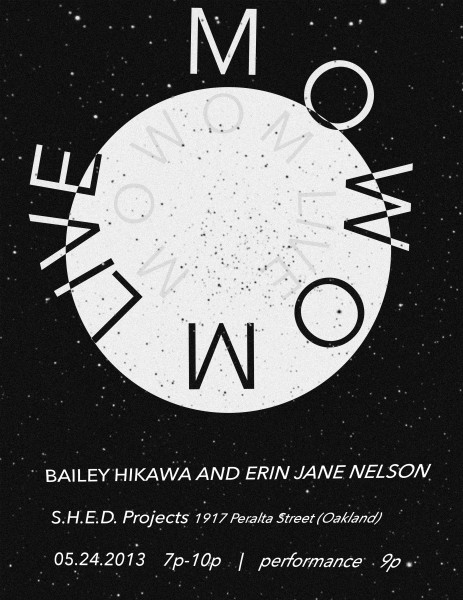 MOWOM LIVE:
WHITE RUSSIANS UNDER THE FLOWER MOON, BETWEEN TWO PILLARS
SARDINES AND ORBS THAT ARE CHANGING
BALLOON-TWISTERS AND MUSICAL SCORES
SCOTTY AS SHEILA
PAULETTE AS HERSELF
WET CLAY WITH CANDLES
THE MOON IS A FUCKING YIN-YANG!
TREADMILLS, TIME, AND WOMEN
A one-night project by Bailey Hikawa and Erin Jane Nelson
Friday, May 24th from 7pm-10pm.
Performance at 9pm
S.H.E.D. Projects, 1917 Peralta St., Oakland
Bailey Hikawa (b. Los Angeles, CA) lives and works in Oakland, California. She received her B.F.A. from The California College of the Arts in 2012. She is a member of Real Time and Space studios and recently had a show at Important Projects (Oakland), Emperor! Emperor! Emperor!
Erin Jane Nelson is an artist and writer living in Oakland, California. She studied at The Cooper Union School of Art in New York, Malmö Art Academy in Sweden, and the Ox-bow School of Art in Michigan. Recent projects include Love's Labor's 1 at Important Projects (Oakland), On The Line Making Time at Vessel & Page (Pontiac, MI), Summer School at Project Space (Vancouver), and Broon published by Gottlund Verlag (Los Angeles)