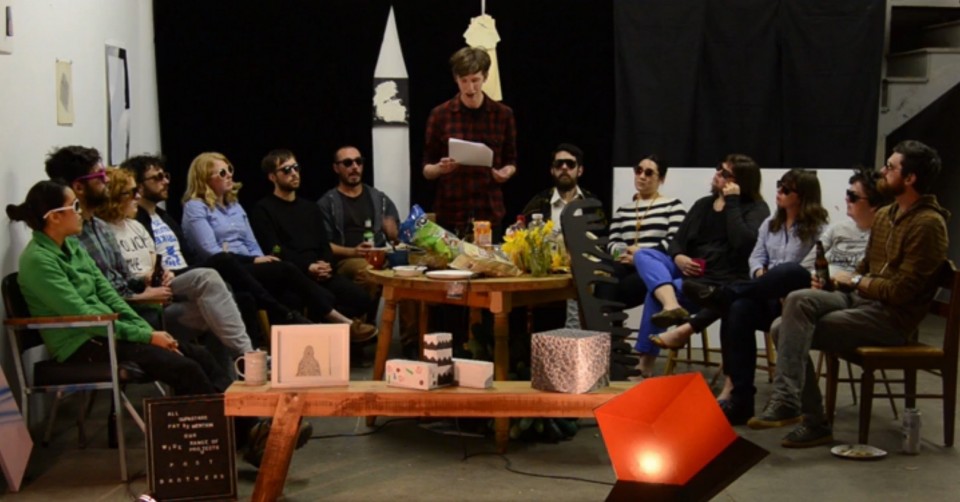 Real Time & Space is pleased to announce its inclusion in Many Places at Once, at the Wattis Institute for Contemporary Arts, curated by the 2014 graduating class of the Graduate Program in Curatorial Practice at California College of the Arts.
Exhibition dates: April 17 – July 12, 2014
Opening event: April 17, 6:30 – 8:30 pm, 360 Kansas Street, San Francisco
We are in such great company in this exhibition that includes work by by Martin Soto Climent, Rana Hamadeh, Li Ran, Cinthia Marcelle, William Powhida, and Ian Wallace. Check out the Wattis' website for more information: http://www.wattis.org/exhibitions/many-places-once
Come see an installation of works from the studio along with a play, The 14 Negotiators, written and directed by former RTS resident Erin Jane Nelson, made in collaboration with studio members of RTS. As part of our contribution to Many Places at Once, RTS will also be producing a series of events:
RTS Open House
Saturday May 3, 2 – 6 pm
At RTS, 125 10th Street, Oakland
RTS Talk – Anthony Huberman of the Wattis with Joel Dean & Jason Benson of Important Projects
Date TBD, stay tuned
At RTS, 125 10th Street, Oakland
RTS Film Night – curated by Anastasia Pahules
Tuesday, June 24, 7 – 10pm
At RTS, 125 10th Street, Oakland
RTS Potluck – Portrait of the Artist as a Young Casserole
Saturday, July 12, 6 – 8pm
At the Wattis, 360 Kansas Street, San Francisco
Please bring a dish you interpret as a self portrait and get ready for a balloon drop! BYOB, and BYO serving utensils.