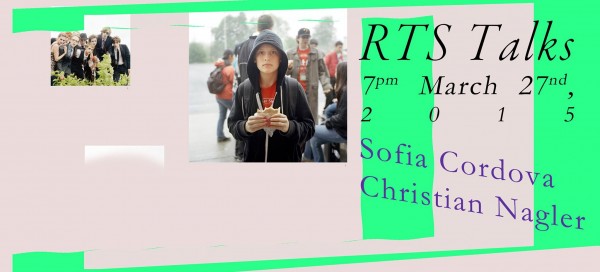 March 27th, 7pm
Real Time and Space presents talks (finally!) by two former artists-in-residence, Sofía Cordova and Christian Nagler.
Born in 1985 in Carolina, Puerto Rico, Sofía Córdova received her BFA from St. John's University in Queens, NY in 2006, and her MFA from the California College of the Arts in San Francisco in 2010. Though Sofía Córdova began her career as a photographer, her work has expanded to include performance, video, and installation. She has performed at SFMOMA, SomArts and Galeria De La Raza among others. Her work has been exhibited at the Sonoma Valley Museum of Art, AMOA/Art House, Southern Exposure, Queen's Nails, The International Center of Photography as well as other venues internationally. She was awarded the 2014-2015 Kala Fellowship and her work is part of Pier 24's permanent collection.
Christian Nagler is a performer, writer and translator. He has performed with Anna Halprin, Isak Immanuel, Yuko Kaseki and Open Experiments Ensemble. His work has recently been presented at the Berkeley Art Museum, Headlands Center for the Arts, Southern Exposure, and the Kadist Foundation. His novel The Capitalist, is forthcoming in 2014. His writing can recently be found in Fillip, Six Lines of Flight (UC Press), Somatic Engagement (Chainlinks Books) Encyclopedia, Aufgabe, and Performance Research. He has translated works by the political economist Alberto Masferrer, as well as writings by the contemporary novelist Horacio Castellanos Moya and psychoanalytic theorist Heriberto Yépez. He currently teaches writing and new genres at the San Francisco Art Institute.