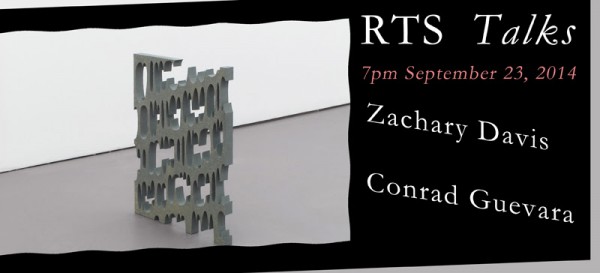 On Tuesday, September 23rd, at 7 PM, current artist-in-residence Zachary Davis will be presenting with studio member Conrad Guevara.
Zachary Davis' work comes out of an ongoing inquiry into the nature of sense, knowledge, and creaturehood, mixing formal and symbolic play with contemporary research into artificial intelligence. While in residence, Davis plans to use his time in the studio to experiment with new techniques for working with stone and epoxy resin, and to read about the western Enlightenment, the lineage of which structures much of what it is possible or rational to think today.
Conrad Guevara received an MFA from the San Francisco Art Institute in 2013 and a BA at the College of Charleston, in beautiful Charleston, SC in 2008. Conrad is one third of Bonanza, a collaborative group with Lana Williams and Lindsay Tully, with whom he has exhibited at n/a gallery, ATA Window Gallery and The Old Mint. Conrad is also half of "FrancoGuevara" with C. Franco Maldonado, with whom he has exhibited at The THING Quarterly, SOMArts and The Lab.