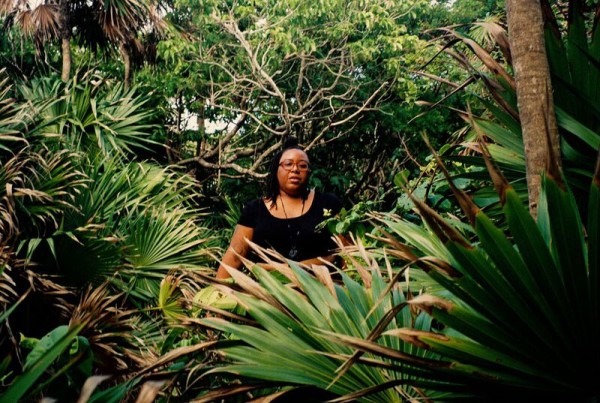 RTS is hosting a record release party this Sat night!
TROPIC GREEN RECORD RELEASE
GOLDEN LIGHT 7″
CRIME ON THE MOON RECORDS
DECEMBER 19TH 2015 7 TO 9 PM
Visuals by Grace Rosario Perkins and Anna Luisa Petrisko/ JEEPNEYS
Tropic Green performance at 8 with Sarah Sass Biscarra-Dilley and Titania Kumeh
Tropic Green is music from the planet Saturn as channeled by Adee Roberson. Roberson is a visual artist and musician who has been a fixture in underground art and music for over a decade. With Tropic Green- She is leading the way for us into a Black Futurist fantasy that draws from the minimal aspects of punk, reggae, house music, and spirituals. She weaves rich celestial landscapes with her drum machines, synthesizers and various percussion instruments.
These tracks were recorded cross-country in California & New York City. Crime On The Moon label owner Hannah Lew handled the west coast tracking & participated in the birth of the music which features Roberson on drum machine, synthesizer, bass and vocals. India Cooke, the legendary Bay Area Jazz and Improvisational Violinist peppers the songs throughout. Christina Files took over in NYC for producing & mixing bringing cosmic lasers, floating oscillations of white noise & regenerated feedback that folds gracefully into the milieu and helped further Roberson's creative vision. Obscured by samples, decibel distortions & outer space visions, the nature of this recording forces the music to be heard.