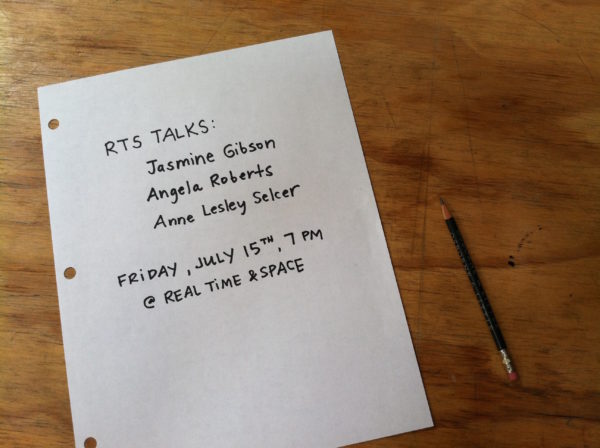 RTS is excited to host a night of readings by Jasmine Gibson, Angela Roberts and Anne Lesley Selcer on June 15th at 7pm. Jasmine Gibson is our June/July artist in residence. Angela Roberts is the Small Press Traffic resident for July/August. Join us this Friday!

Jasmine Gibson is a Philly jawn now living in Brooklyn and soon to be psychotherapist for all your gooey psychotic episodes that match the bipolar flows of capital. She spends her time thinking about sexy things like psychosis, desire and freedom. She has written for Mask Magazine and LIES Vol II: Journal of Materialist feminism and has now published a chapbook, Drapetomania, off of Commune Editions.
Angela Roberts currently lives in Oakland and has lived in New Orleans, Seoul, and Schaumburg variously. She writes prose, plays cello, and uses her body to perform. She currently edits a zine called Supertrooper. Angela's solo noise act Cruel Work recently toured the middle part of the US. She regularly performs in ensembles in the Bay Area and performs in an ongoing electronics and improvisation project with her partner Scott Goff.
Recent writing by Anne Lesley Selcer has been published in Elderly, GaussPdf, Art Practical and with Second Floor Projects gallery. Writing is forthcoming in The Chicago Review and Rabble (Insert Blanc). She is an art writer, poet, and current fellow at Southern Exposure gallery. She wrote from A Book of Poems on Beauty and Banlieusard.